A Step-By-Step Strategy of Social Media Growth for Dummies

Out of sight, out of mind is what we like to say – Social media has become a key part of the best marketing strategies to date. It helps create engagement, brand awareness, website traffic, and sales. A proper social media growth strategy is needed to make it a success.
There is no doubt that social media is a very powerful tool but it has now become a seriously competitive market place. A successful social media strategy needs to have a few key elements – Let's start with scale and how to grow your following.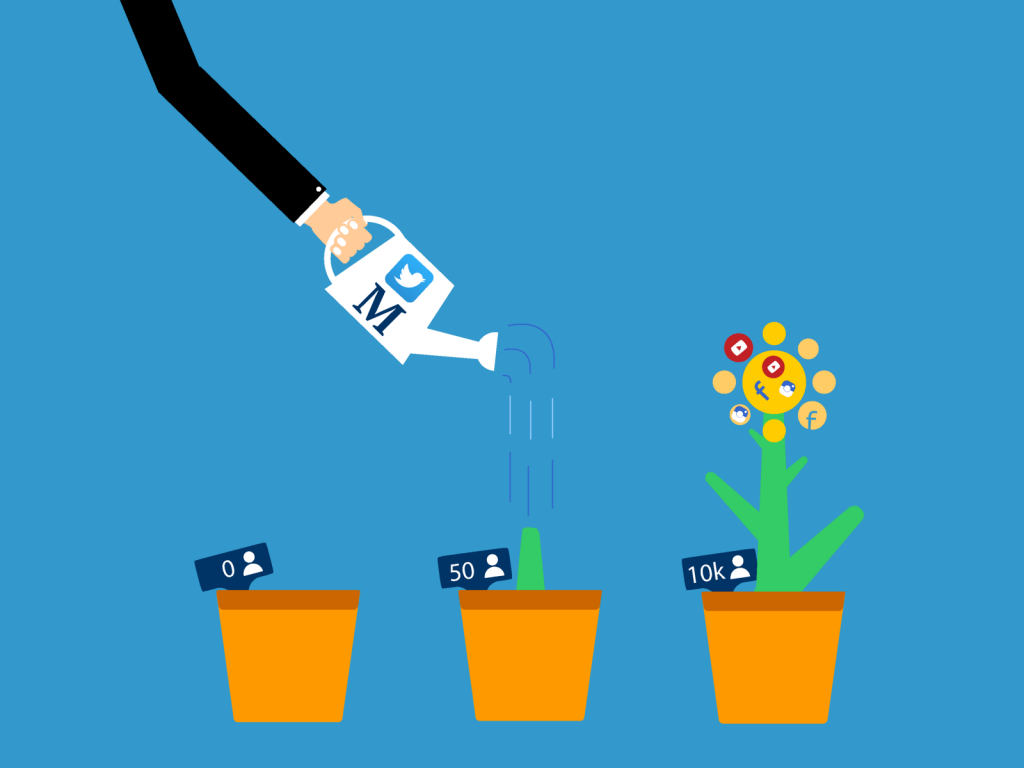 Social Media Growth Strategy- Things That Are 'A Must'
1) Hashtags
Quality over quantity – Do your research, and find out what the most popular hashtag searches are in your industry. Use a platform to track the engagement rate of hashtags to see what works best for you. We like to use Keyhole and Sprout Social to track hashtags and competitors. Social media is as much about aesthetic as it is content – keep your profile looking consistent by putting hashtags in your comments.
Note: Hashtags are for Instagram and Twitter. Not Facebook.
2) Competition
Running competitions is a great way to grow your social media following. It gives new and future customers a chance to win/try your product or service without making them give up the dosh. Engagement helps extend your reach and increases your brand awareness.
Note: "I hate free stuff" – Said no one ever.
3) Timing

Ever heard of being in the right place at the right time. Well, in this digital generation it's never been more relevant. When posting on SM think about when your target market is most likely on Instagram or Facebook. Posting at 5.30pm on a weekday could be useless when the majority of your market may be commuting home. Analytic tools are great for this.
Note: Many companies post on the hour. Avoid being pushed to the bottom of people's news feed by scheduling your content off the hour. For example 7.02pm
4) Stories/Teasers
Launching a new menu or product?  Create anticipation or suspense. This will get people talking and sharing content from your page. Small snips, sharing textures and making consumers join the guessing games is what social media is all about. Get your audience hooked. It is best to pre-launch a campaign on lower 'attention per post' platforms and then link towards the final campaign on Facebook, your website or both.
Note: Instagram and Snapchat are great platforms for kick-starting a new campaign and giving people a snippet.

5) Stop, Collaborate and Listen.
Work with social media influencers, ambassadors and form alliances with aligned brands. A collaborative giveaway, sponsored review and a little bit of PR can go a long way. Social media influencers and alliance brands are a great way to engage with an audience who already highly trust the face they follow. An example of a strong brand alliance is Whittakers and Lewis Road Creamery. (If you don't know what I'm talking about, get yo' self to the nearest supermarket for some choccy milk stat).
Note: These are not your competitors, these are faces who have similar values and fit your brand image.
6) Stay Active – Strategically
Liking, following and engaging is key. Make sure the content you are engaging with is relevant to your brand. After all, SM's foundations are built around communication and interaction. Commenting and connecting is putting you on the right radars.
Note: Think of it as networking.
Hope you liked our strategy for increasing the following and likes on a social media platform.
Need some help? Get in touch..